If production charges decline, prices of commodities will decrease: Senior General
Ministry of Information/ Naypyitaw / January 28, 2023
ALL ministries are to systematically supervise information security, said Chairman of the State Administration Council Prime Minister Senior General Min Aung Hlaing at the Union government meeting 1/2023 at the SAC Chairman Office in Nay Pyi Taw yesterday morning.
In his speech, the Senior General explained political changes based on vote rigging in the 2020 multiparty general election, terror acts committed by CRPH, NUG and PDF terrorists on innocent people and public service personnel, controlling of the government over political instability triggered by political controversy under the law, and economic growth.
Encouragement of domestic production helps develop the State economy to some extent
The Senior General went on to say that after the assumption of the State's responsibilities, the government encouraged domestic manufacturing processes based on agriculture and livestock farms for the improvement of the State economy. Hence, the State economy improves to some extent. Arrangements should be made for supplying inputs and raw materials for the manufacturing sector at cheap prices as well as adequate strength of human resources. If production charges decline, prices of commodities will decrease.
Respective regions and states have to try to ensure food sufficiency. Micro, small and medium-scale enterprises play a key role in the domestic manufacturing sector based on agriculture and livestock farms.
International relations
Myanmar has been exercising an independent, active and non-aligned foreign policy till today. The political instability of Myanmar is triggered by the political controversy of some foreign countries over Myanmar, interference of some countries in the internal affairs of Myanmar and instigation in Myanmar's politics.
Education promotion for the people
Myanmar still faces many requirements in the development of the education sector, according to the statistics. The majority of people over 25 years old are in middle school education. Hence, it is necessary to reform the education sector without fail.
In respect of the health and education sectors, the Senior General said: "The second point is related to the health sector. The outbreak of Covid-19 brought a large volume of loss to us. In the past, Myanmar had 70 years of life expectancy. Our country's life expectancy is the lowest among neighbouring countries. Even Laos' life expectancy is higher than ours and Bangladesh's is also higher as well. It depends on various kinds of calculations. Whatever it may be, our people must have a higher life expectancy and they must be healthy. In this regard, they have to embrace good food supplies for the first point. As for the second point, they must have to enjoy the proper accommodation. To be able to enjoy them, they must have job opportunities. If we cannot create such chances for them, they will face terrible weakness in the health sector. Even though vaccination is given to them, it is impossible. We experienced Covid-19 breaking out amid vaccination. So, only when we can uplift the lifestyle will people have a high standard of the health sector. To do so, we have to initiate a booming economy. And, we have to encourage higher education qualifications for them. So, we have to implement the KG+9 scheme for school education. If so, those persons will have the qualification to join the vocational training at least. So, we will open the technical, agriculture and livestock breeding schools in respective districts. First, we will establish 50 schools. They must have been educated. We dare to put investment in the education sector and afford to give investment. Then, we will open similar schools in all districts and major cities. We have to carry on the tasks for these schools."
Requirements for electrification to develop the country
The Senior General highlighted that the government set a plan to sufficiently generate electricity in 2025. Only when electricity can be generated sufficiently will manufacturing and public transport be implemented. If electricity can be used in the transport sector, fuel consumption will be lessened as well as foreign currencies reduced. All regions and states need to supply sufficient water for consumption and cultivation to the people. Efforts must be made for the development of agriculture and livestock farms to ensure food sufficiency.
Development of Nay Pyi Taw Council Area
The Senior General underscored that Nay Pyi Taw, the administrative city, can be seen with great development within 17 years. It is necessary to shape Nay Pyi Taw to be a green city, clean city and smart city. Ministries are to strive for the development of Nay Pyi Taw in accord with the capital characteristics.
Union ministers reported on their respective sectors.
In conclusion, the Senior General praised the government of the State Administration Council for its endeavours in nation-building tasks within two years period. All ministries are to systematically supervise information security, he added. MNA/TTA
#TheGlobalNewLightOfMyanmar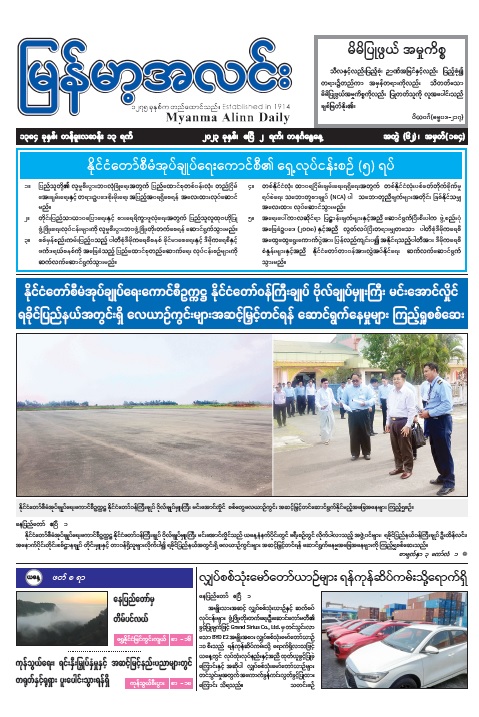 ၁၃၈၄ ခုနှစ်၊ တန်ခူးလဆန်း ၁၃ ရက်၊ ဧပြီ ၂ ရက်၊ တနင်္ဂနွေနေ့။
---
Publisher: မြန်မာ့အလင်း/ April 02, 2023
Publication Date: 2023
Page: 32 Pages
Language: မြန်မာ
Download
၁၃၈၄ ခုနှစ်၊ တန်ခူးလဆန်း ၁၂ ရက်၊ ဧ ၁ ရက်၊ စနေနေ့။
---
Publisher: မြန်မာ့အလင်း/ April 01, 2023
Publication Date: 2023
Page: 32 Pages
Language: မြန်မာ
Download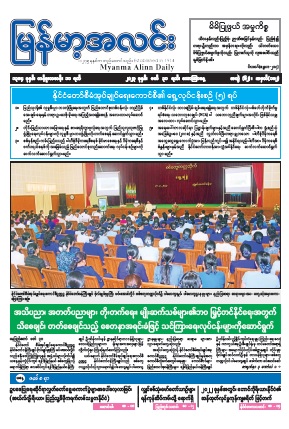 ၁၃၈၄ ခုနှစ်၊ တန်ခူးလဆန်း ၁၁ ရက်၊ မတ် ၃၁ ရက်၊ သောကြာနေ့။
---
Publisher: မြန်မာ့အလင်း/ March 31, 2023
Publication Date: 2023
Page: 32 Pages
Language: မြန်မာ
Download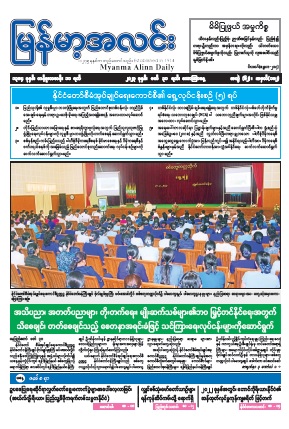 29-3-2023 Information Sheet (English)
---
Publisher: MOD/ March 30, 2023
Publication Date: 2023
Page: 16
Language: English
Download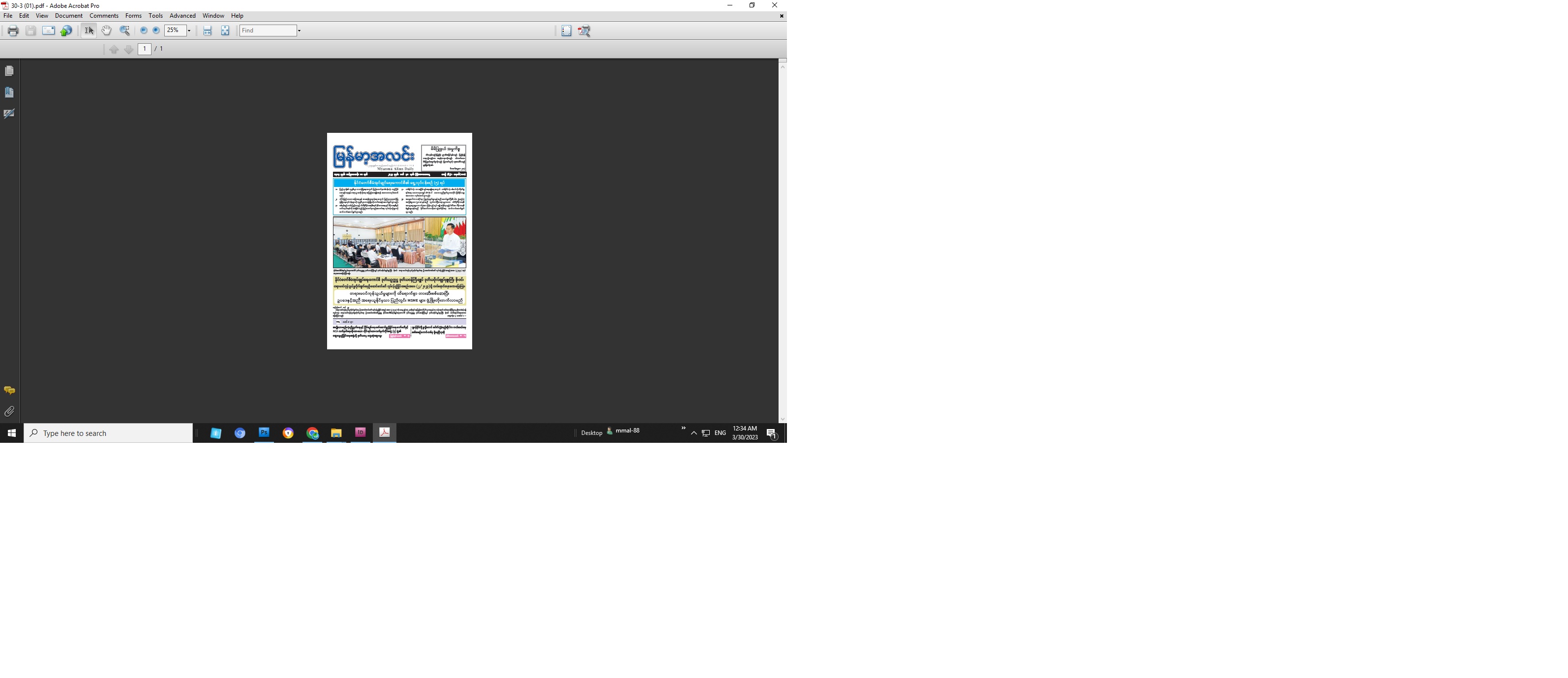 ၁၃၈၄ ခုနှစ်၊ တန်ခူးလဆန်း ၁၀ ရက်၊ မတ် ၃၀ ရက်၊ ကြာသပတေးနေ့။
---
Publisher: မြန်မာ့အလင်း/ March 30, 2023
Publication Date: 2023
Page: 32 Pages
Language: မြန်မာ
Download
၁၃၈၄ ခုနှစ်၊ တန်ခူးလဆန်း ၉ ရက်၊ မတ် ၂၉ ရက်၊ ဗုဒ္ဓဟူးနေ့။
---
Publisher: မြန်မာ့အလင်း/ March 29, 2023
Publication Date: 2023
Page: 32 Pages
Language: မြန်မာ
Download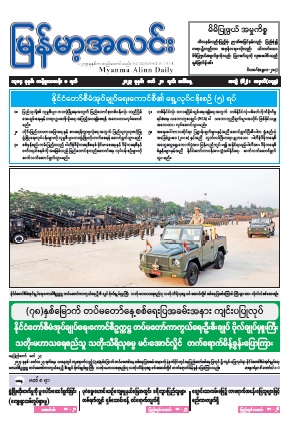 ၁၃၈၄ ခုနှစ်၊ တန်ခူးလဆန်း ၈ ရက်၊ မတ် ၂၈ ရက်၊ အင်္ဂါနေ့။
---
Publisher: မြန်မာ့အလင်း/ March 28, 2023
Publication Date: 2023
Page: 32 Pages
Language: မြန်မာ
Download
၁၃၈၄ ခုနှစ်၊ တန်ခူးလဆန်း ၇ ရက်၊ မတ် ၂၇ ရက်၊ တနင်္လာနေ့။
---
Publisher: မြန်မာ့အလင်း/ March 27, 2023
Publication Date: 2023
Page: 32 Pages
Language: မြန်မာ
Download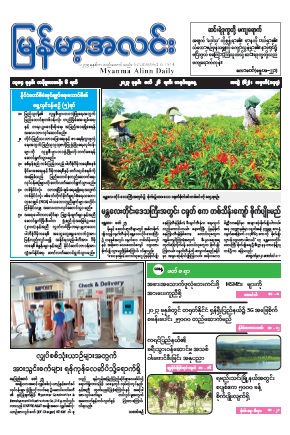 ၁၃၈၄ ခုနှစ်၊ တန်ခူးလဆန်း ၆ ရက်၊ မတ် ၂၆ ရက်၊ တနင်္ဂနွေနေ့။
---
Publisher: မြန်မာ့အလင်း/ March 26, 2023
Publication Date: 2023
Page: 32 Pages
Language: မြန်မာ
Download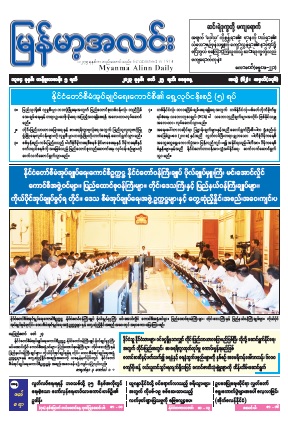 ၁၃၈၄ ခုနှစ်၊ တန်ခူးလဆန်း ၅ ရက်၊ မတ် ၂၅ ရက်၊ စနေနေ့။
---
Publisher: မြန်မာ့အလင်း/ March 25, 2023
Publication Date: 2023
Page: 32 Pages
Language: မြန်မာ
Download