Myanmar-China economic, trade promotion meeting held
Ministry of Information/ Naypyitaw / March 22, 2023
DEPARTMENT of Trade Director-General U Myint Thura of the Ministry of Commerce and Lancang City Mayor of Mr Du Jianhui held a coordination meeting to further promote the economy and trade yesterday at the Ministry of Commerce in Nay Pyi Taw.
Both sides discussed matters in connexion with further promoting the economy and trade between Myanmar and China, holding the fourth Border Trade Fair of Myanmar (Nay Pyi Taw)-China (Lancang), signing an agreement on cross-border transit trade between Myanmar and China, facilitating the trade of goods from third countries crossing the Myanmar-China border post – Chinshwehaw, and uplifting border trade.
The meeting was attended by Myanmar Trade Promotion Organization Director-General Daw Naw Muta Kapaw from the Ministry of Commerce, the deputy director-general of the Department of Trade, responsible personnel and eight representatives from China.
MNA/TS
#TheGlobalNewLightOfMyanmar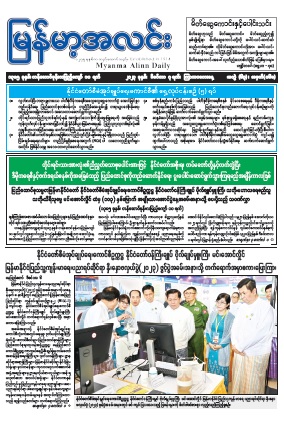 ၁၃၈၅ ခုနှစ်၊ တန်ဆောင်မုန်းလပြည့်ကျော် ၁၀ ရက်၊ ဒီဇင်ဘာ ၇ ရက်၊ ကြာသပတေးနေ့။
---
Publisher: မြန်မာ့အလင်း/ December 07, 2023
Publication Date: 2023
Page: 32 Pages
Language: မြန်မာ
Download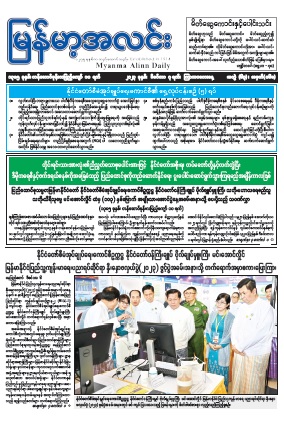 Information Sheet (4-12-2023) / Burmese (Myanmar Version)
---
Publisher: Information Sheet/ December 06, 2023
Publication Date: 2023
Page: 38
Language: Burmese (Myanmar Version)
Download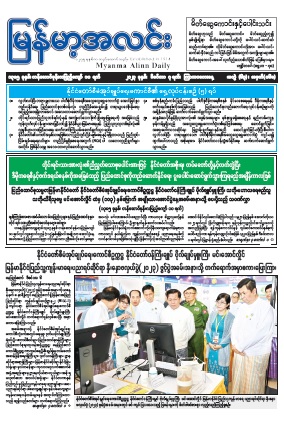 Information Sheet (4-12-2023) / English Version
---
Publisher: Information Sheet/ December 06, 2023
Publication Date: 2023
Page: 38
Language: English Version
Download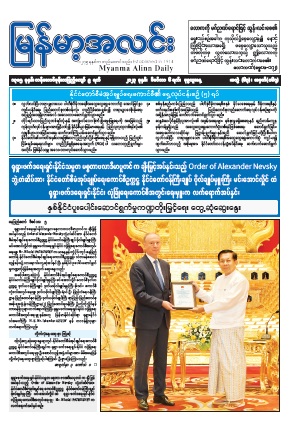 ၁၃၈၅ ခုနှစ်၊ တန်ဆောင်မုန်းလပြည့်ကျော် ၉ ရက်၊ ဒီဇင်ဘာ ၆ ရက်၊ ဗုဒ္ဓဟူးနေ့။
---
Publisher: မြန်မာ့အလင်း/ December 06, 2023
Publication Date: 2023
Page: 32 Pages
Language: မြန်မာ
Download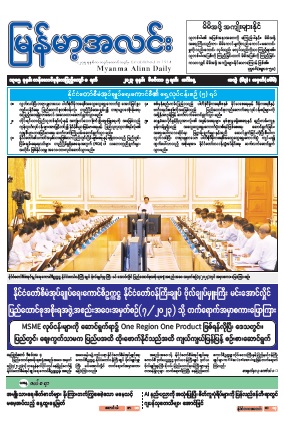 ၁၃၈၅ ခုနှစ်၊ တန်ဆောင်မုန်းလပြည့်ကျော် ၈ ရက်၊ ဒီဇင်ဘာ ၅ ရက်၊ အင်္ဂါနေ့။
---
Publisher: မြန်မာ့အလင်း/ December 05, 2023
Publication Date: 2023
Page: 32 Pages
Language: မြန်မာ
Download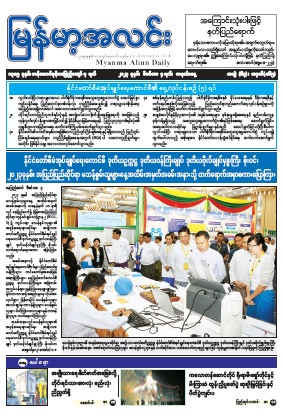 ၁၃၈၅ ခုနှစ်၊ တန်ဆောင်မုန်းလပြည့်ကျော် ၇ ရက်၊ ဒီဇင်ဘာ ၄ ရက်၊ တနင်္လာနေ့။
---
Publisher: မြန်မာ့အလင်း/ December 04, 2023
Publication Date: 2023
Page: 32 Pages
Language: မြန်မာ
Download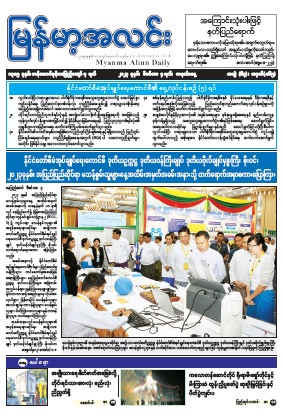 ၁၃၈၅ ခုနှစ်၊ တန်ဆောင်မုန်းလပြည့်ကျော် ၇ ရက်၊ ဒီဇင်ဘာ ၄ ရက်၊ တနင်္လာနေ့။
---
Publisher: မြန်မာ့အလင်း/ December 04, 2023
Publication Date: 2023
Page: 32 Pages
Language: မြန်မာ
Download
၁၃၈၅ ခုနှစ်၊ တန်ဆောင်မုန်းလပြည့်ကျော် ၆ ရက်၊ ဒီဇင်ဘာ ၃ ရက်၊ တနင်္ဂနွေနေ့။
---
Publisher: မြန်မာ့အလင်း/ December 03, 2023
Publication Date: 2023
Page: 32 Pages
Language: မြန်မာ
Download
၁၃၈၅ ခုနှစ်၊ တန်ဆောင်မုန်းလပြည့်ကျော် ၆ ရက်၊ ဒီဇင်ဘာ ၃ ရက်၊ တနင်္ဂနွေနေ့။
---
Publisher: မြန်မာ့အလင်း/ December 03, 2023
Publication Date: 2023
Page: 32 Pages
Language: မြန်မာ
Download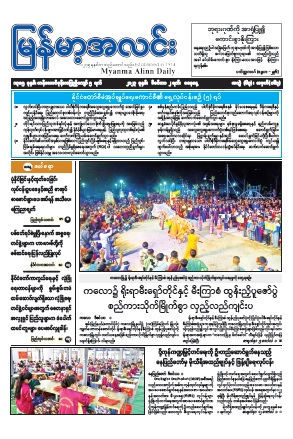 ၁၃၈၅ ခုနှစ်၊ တန်ဆောင်မုန်းလပြည့်ကျော် ၅ ရက်၊ ဒီဇင်ဘာ ၂ ရက်၊ စနေနေ့။
---
Publisher: မြန်မာ့အလင်း/ December 02, 2023
Publication Date: 2023
Page: 32 Pages
Language: မြန်မာ
Download