SAC Chairman Prime Minister Senior General Min Aung Hlaing attends final match and awarding for men's football tournament of Basic Education Students Sports Festival for 2022-23 academic year
Ministry of Information/ Naypyitaw / January 28, 2023
CHAIRMAN of the State Administration Council Prime Minister Senior General Min Aung Hlaing attended to watch the final match of the men's football tournament of the Basic Education Students Sports Festival for the 2022-23 academic year and awarded prizes to the relevant teams at the prize awarding ceremony at Wunna Theikdi Stadium in Nay Pyi Taw yesterday afternoon.
The Senior General and party watched the final match between the Yangon Region team and Ayeyawady Region team in the men's football tournament.
As it was the final match, both teams posed pressure on each other starting from the match. The player (No 10) of the Ayeyawady Region team scored an opening goal by showing off his brilliant skills to his team in the leading role. Afterwards, both teams penetrated each other but the results remained unchanged.
In the second half, the Yangon Region team equalized the result in the 53rd minute but the Ayeyawady Region team scored the second goal in the 64th minute. At the final whistle, the Ayeyawady Region team clinched the title with a 2-1 win over the Yangon Region team.
Next, SAC member Lt-Gen Moe Myint Tun presented individual medals, prizes and cash awards to the joint third-prizewinning Shan State team, SAC member General Mya Tun Oo, the joint third-prize-winning Mandalay Region team and Council Joint Secretary Lt-Gen Ye Win Oo, the second-prize-winning Yangon Region team.
Vice-Senior General Soe Win presented individual medals to players of the first-prizewinning Ayeyawady Region team.
The Senior General presented cash awards and the championship trophy to the first-prize-winning Ayeyawady Region team.
After the prize-awarding ceremony, the Senior General cordially greeted the athletes. The Senior General also gave K5 million each to all contending teams from regions and states which participated in the basic education students sports festival for the 2022-23 academic year.
The festival was held from 17 January to yesterday. If outstanding students from the sports festival are selected for training, they will have the chance to take part in the ASEAN University Games with better sports skills when those basic education students attend the universities and more selected national players will come out.
MNA/TTA
#TheGlobalNewLightOfMyanmar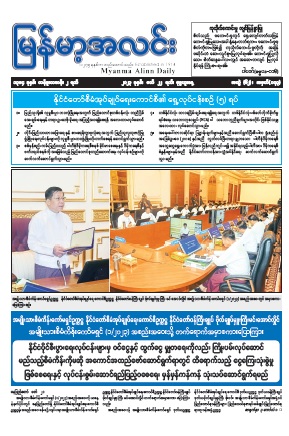 ၁၃၈၄ ခုနှစ်၊ တန်ခူးလဆန်း ၂ ရက် ၊ မတ် ၂၂ ရက်၊ ဗုဒ္ဓဟူးနေ့။
---
Publisher: မြန်မာ့အလင်း/ March 22, 2023
Publication Date: 2023
Page: 32 Pages
Language: မြန်မာ
Download
၁၃၈၄ ခုနှစ်၊ တန်ခူးလဆန်း ၁ ရက် ၊ မတ် ၂၁ ရက်၊ အင်္ဂါနေ့။
---
Publisher: မြန်မာ့အလင်း/ March 21, 2023
Publication Date: 2023
Page: 32 Pages
Language: မြန်မာ
Download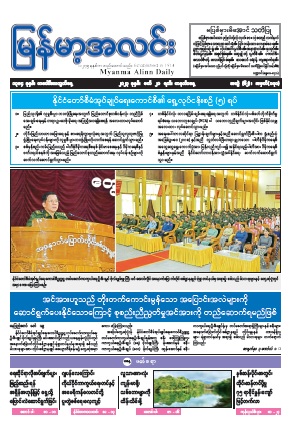 ၁၃၈၄ ခုနှစ်၊ တပေါင်းလကွယ်နေ့၊ မတ် ၂၀ ရက်၊ တနင်္လာနေ့။
---
Publisher: မြန်မာ့အလင်း/ March 20, 2023
Publication Date: 2023
Page: 32 Pages
Language: မြန်မာ
Download
၁၃၈၄ ခုနှစ်၊ တပေါင်းလပြည့်ကျော် ၁၄ ရက် ၊ မတ် ၁၉ ရက်၊ တနင်္ဂနွေနေ့။
---
Publisher: မြန်မာ့အလင်း/ March 19, 2023
Publication Date: 2023
Page: 32 Pages
Language: မြန်မာ
Download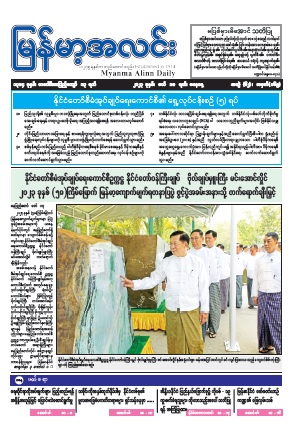 ၁၃၈၄ ခုနှစ်၊ တပေါင်းလပြည့်ကျော် ၁၃ ရက် ၊ မတ် ၁၈ ရက်၊ စနေနေ့။
---
Publisher: မြန်မာ့အလင်း/ March 18, 2023
Publication Date: 2023
Page: 32 Pages
Language: မြန်မာ
Download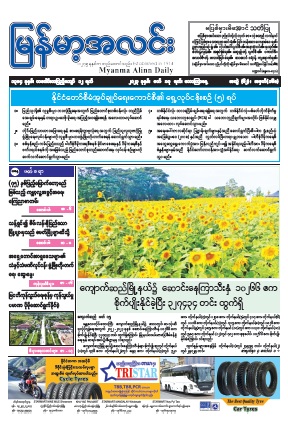 ၁၃၈၄ ခုနှစ်၊ တပေါင်းလပြည့်ကျော် ၁၂ ရက် ၊ မတ် ၁၇ ရက်၊ သောကြာနေ့။
---
Publisher: မြန်မာ့အလင်း/ March 17, 2023
Publication Date: 2023
Page: 32 Pages
Language: မြန်မာ
Download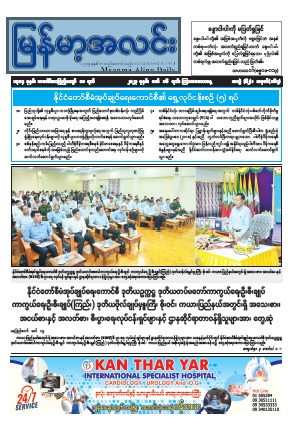 ၁၃၈၄ ခုနှစ်၊ တပေါင်းလပြည့်ကျော် ၁၁ ရက် ၊ မတ် ၁၆ ရက်၊ ကြာသပတေးနေ့။
---
Publisher: မြန်မာ့အလင်း/ March 16, 2023
Publication Date: 2023
Page: 32 Pages
Language: မြန်မာ
Download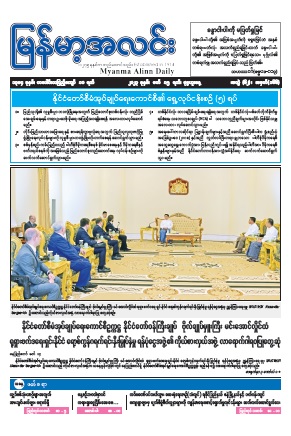 ၁၃၈၄ ခုနှစ်၊ တပေါင်းလပြည့်ကျော် ၁၀ ရက် ၊ မတ် ၁၅ ရက်၊ ဗုဒ္ဓဟူးနေ့။
---
Publisher: မြန်မာ့အလင်း/ March 15, 2023
Publication Date: 2023
Page: 32 Pages
Language: မြန်မာ
Download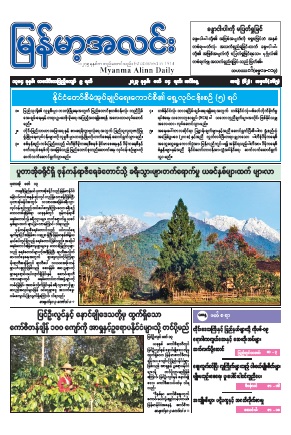 ၁၃၈၄ ခုနှစ်၊ တပေါင်းလပြည့်ကျော် ၉ ရက် ၊ မတ် ၁၄ ရက်၊ အင်္ဂါနေ့။
---
Publisher: မြန်မာ့အလင်း/ March 14, 2023
Publication Date: 2023
Page: 32 Pages
Language: မြန်မာ
Download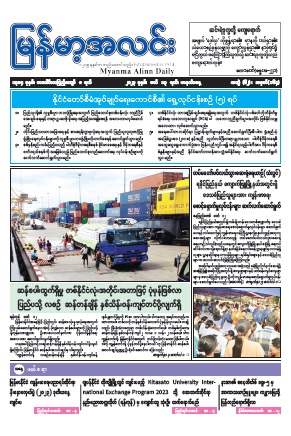 ၁၃၈၄ ခုနှစ်၊ တပေါင်းလပြည့်ကျော် ၈ ရက် ၊ မတ် ၁၃ ရက်၊ တနင်္လာနေ့။
---
Publisher: မြန်မာ့အလင်း/ March 13, 2023
Publication Date: 2023
Page: 32 Pages
Language: မြန်မာ
Download