MoHT Union Minister receives Commercial Director of Russiabased Yi Ling Tourism Co Ltd
Ministry of Information/ Naypyitaw / December 03, 2022
UNION Minister for Hotels and Tourism Dr Htay Aung received Mr Kosinkov Evgeny, Commercial Director of Russia-based Yi Ling Tourism Co Ltd in Nay Pyi Taw yesterday.
During the meeting, Mr Kosinkov Evgeny called for relaxation on the insurance of Myanmar as Russian travellers make tours by buying international insurance and highlighted the ongoing talks with Myanmar International Airways to operate flights for travellers from Russia and large numbers of tourist arrivals if the country facilitates the monetary sector.
Then, the Union minister said there are examples as the Italian Airways operated flight from Milan to Phuket by stopping over in Myanmar previously. Now, the MAI makes proper arrangements. He also pledged to negotiate with the department concerned regarding travel insurance and to arrange for the currency of travellers.
He continued that the country is also cooperating in the tourism industry as the bilateral relationship between Myanmar and Russia is moving into a higher gear.
MNA
#TheGlobalNewLightOfMyanmar
၁၃၈၅ ခုနှစ်၊ တန်ဆောင်မုန်းလပြည့်ကျော် ၄ ရက်၊ ီဇင်ဘာ ၁ ရက်၊ သောကြာနေ့။
---
Publisher: မြန်မာ့အလင်း/ December 01, 2023
Publication Date: 2023
Page: 32 Pages
Language: မြန်မာ
Download
၁၃၈၅ ခုနှစ်၊ တန်ဆောင်မုန်းလပြည့်ကျော် ၄ ရက်၊ ီဇင်ဘာ ၁ ရက်၊ သောကြာနေ့။
---
Publisher: မြန်မာ့အလင်း/ December 01, 2023
Publication Date: 2023
Page: 32 Pages
Language: မြန်မာ
Download
Information Sheet (29-11-2023) / Burmese (Myanmar Version)
---
Publisher: Information Sheet/ November 30, 2023
Publication Date: 2023
Page: 26
Language: Burmese (Myanmar Version)
Download
Information Sheet (29-11-2023) / English Version
---
Publisher: Information Sheet/ November 30, 2023
Publication Date: 2023
Page: 26
Language: English Version
Download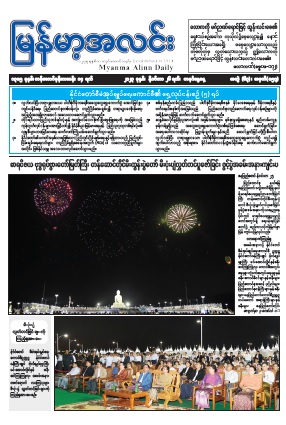 ၁၃၈၅ ခုနှစ်၊ တန်ဆောင်မုန်းလဆန်း ၁၄ ရက် ၊ နိုဝင်ဘာ ၂၆ ရက်၊ တနင်္ဂနွေနေ့။
---
Publisher: မြန်မာ့အလင်း/ November 30, 2023
Publication Date: 2023
Page: 32 Pages
Language: မြန်မာ
Download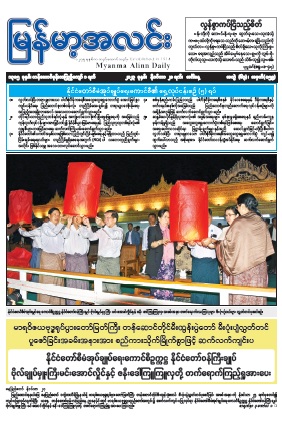 ၁၃၈၅ ခုနှစ်၊ တန်ဆောင်မုန်းလပြည့်ကျော် ၁ ရက်၊ နိုဝင်ဘာ ၂၈ ရက်၊ အင်္ဂါနေ့။
---
Publisher: မြန်မာ့အလင်း/ November 30, 2023
Publication Date: 2023
Page: 32 Pages
Language: မြန်မာ
Download
၁၃၈၅ ခုနှစ်၊ တန်ဆောင်မုန်းလပြည့်ကျော် ၂ ရက်၊ နိုဝင်ဘာ ၂၉ ရက်၊ ဗုဒ္ဓဟူးနေ့။
---
Publisher: မြန်မာ့အလင်း/ November 30, 2023
Publication Date: 2023
Page: 32 Pages
Language: မြန်မာ
Download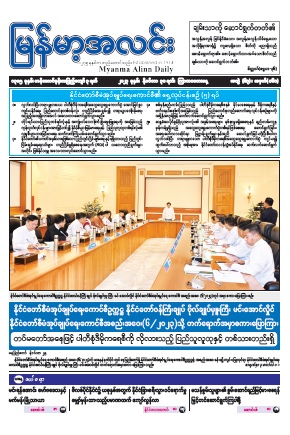 ၁၃၈၅ ခုနှစ်၊ တန်ဆောင်မုန်းလပြည့်ကျော် ၃ ရက်၊ နိုဝင်ဘာ ၃၀ ရက်၊ ကြာသပတေးနေ့။
---
Publisher: မြန်မာ့အလင်း/ November 30, 2023
Publication Date: 2023
Page: 32 Pages
Language: မြန်မာ
Download
၁၃၈၅ ခုနှစ်၊ တန်ဆောင်မုန်းလပြည့်နေ့ ၊ နိုဝင်ဘာ ၂၇ ရက်၊ တနင်္လာနေ့။
---
Publisher: မြန်မာ့အလင်း/ November 30, 2023
Publication Date: 2023
Page: 32 Pages
Language: မြန်မာ
Download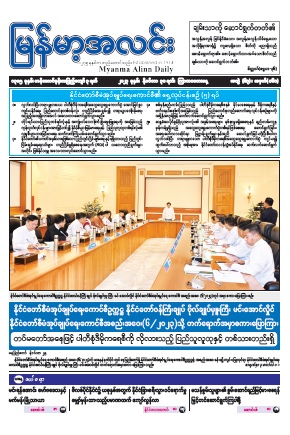 ၁၃၈၅ ခုနှစ်၊ တန်ဆောင်မုန်းလပြည့်ကျော် ၃ ရက်၊ နိုဝင်ဘာ ၃၀ ရက်၊ ကြာသပတေးနေ့။
---
Publisher: မြန်မာ့အလင်း/ November 30, 2023
Publication Date: 2023
Page: 32 Pages
Language: မြန်မာ
Download