MoI Union Minister discusses preparation of parade floats, dance troupes for Diamond Jubilee Independence Day
Ministry of Information/ Naypyitaw / December 03, 2022
THE upcoming 4 January 2023 holds a great significance history in Myanmar marking Diamond Jubilee Independence Day. It will mark the 75th anniversary of holding Independence Day and plans are underway to celebrate it at the national level in Nay Pyi Taw aiming to preserve the sovereignty of the country in the future.
Union Minister for Information U Maung Maung Ohn, in his capacity as Chairman of the Organizing Committee on Diamond Jubilee Independence Day, presided over a coordination meeting on the preparation of floats of regions and states containing dance troupes in Nay Pyi Taw yesterday.
First, the Union minister said arrangements are underway to hold the Diamond Jubilee Independence Day ceremony grandly and the meeting aims to discuss the preparation of floats marching and performers in detail. Although there is the experience of last year and there would no difficulties, preparations should be made in advance not to occur any mistakes and to be on time as the festival is bigger than the last year for having many programmes, manpower and taking a long time.
Then, Committee Secretary Deputy Minister U Ye Tint and relevant officials presented float decorations, dance troupes, numbers of performers, and selected ethnic traditional dances and songs.
Parade floats and booths representing ministries, regions and states will be displayed at Taboung Ground in front of Uppatasanti Pagoda starting at 4:30 pm on 4 January to 8 January. The five-day event will include sales of ethnic food and entertainment of ethnic dance troupes of regions and states.
MNA
#TheGlobalNewLightOfMyanmar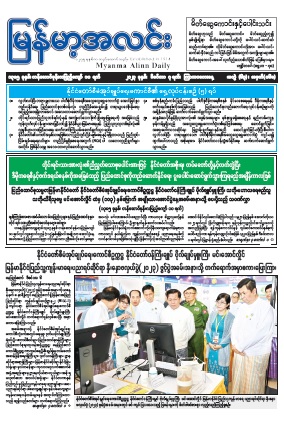 ၁၃၈၅ ခုနှစ်၊ တန်ဆောင်မုန်းလပြည့်ကျော် ၁၀ ရက်၊ ဒီဇင်ဘာ ၇ ရက်၊ ကြာသပတေးနေ့။
---
Publisher: မြန်မာ့အလင်း/ December 07, 2023
Publication Date: 2023
Page: 32 Pages
Language: မြန်မာ
Download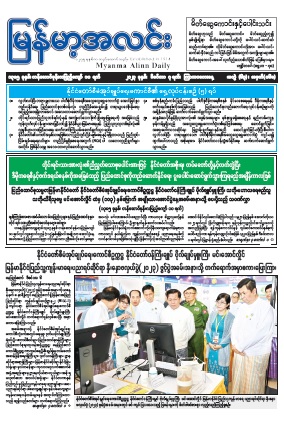 Information Sheet (4-12-2023) / Burmese (Myanmar Version)
---
Publisher: Information Sheet/ December 06, 2023
Publication Date: 2023
Page: 38
Language: Burmese (Myanmar Version)
Download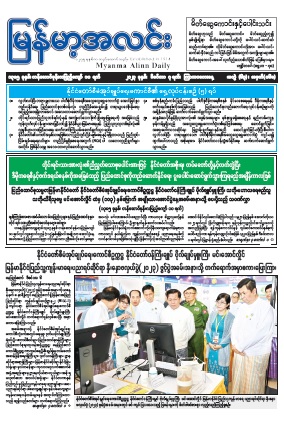 Information Sheet (4-12-2023) / English Version
---
Publisher: Information Sheet/ December 06, 2023
Publication Date: 2023
Page: 38
Language: English Version
Download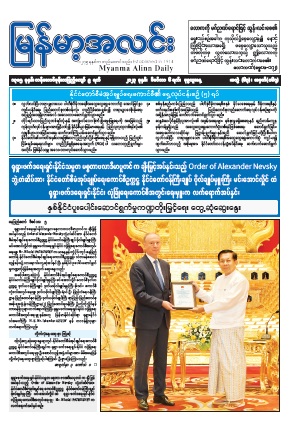 ၁၃၈၅ ခုနှစ်၊ တန်ဆောင်မုန်းလပြည့်ကျော် ၉ ရက်၊ ဒီဇင်ဘာ ၆ ရက်၊ ဗုဒ္ဓဟူးနေ့။
---
Publisher: မြန်မာ့အလင်း/ December 06, 2023
Publication Date: 2023
Page: 32 Pages
Language: မြန်မာ
Download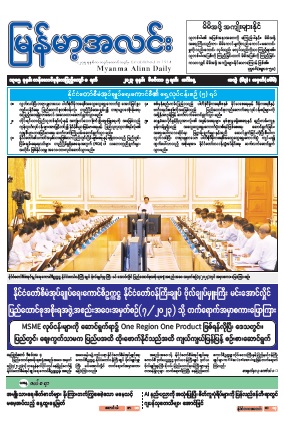 ၁၃၈၅ ခုနှစ်၊ တန်ဆောင်မုန်းလပြည့်ကျော် ၈ ရက်၊ ဒီဇင်ဘာ ၅ ရက်၊ အင်္ဂါနေ့။
---
Publisher: မြန်မာ့အလင်း/ December 05, 2023
Publication Date: 2023
Page: 32 Pages
Language: မြန်မာ
Download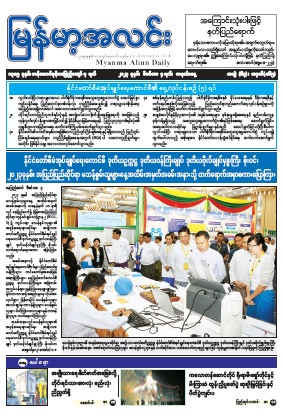 ၁၃၈၅ ခုနှစ်၊ တန်ဆောင်မုန်းလပြည့်ကျော် ၇ ရက်၊ ဒီဇင်ဘာ ၄ ရက်၊ တနင်္လာနေ့။
---
Publisher: မြန်မာ့အလင်း/ December 04, 2023
Publication Date: 2023
Page: 32 Pages
Language: မြန်မာ
Download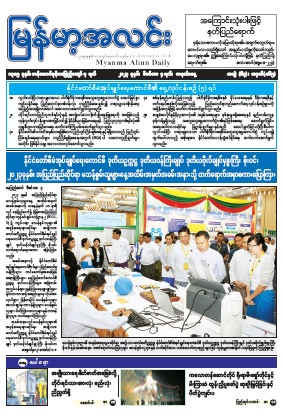 ၁၃၈၅ ခုနှစ်၊ တန်ဆောင်မုန်းလပြည့်ကျော် ၇ ရက်၊ ဒီဇင်ဘာ ၄ ရက်၊ တနင်္လာနေ့။
---
Publisher: မြန်မာ့အလင်း/ December 04, 2023
Publication Date: 2023
Page: 32 Pages
Language: မြန်မာ
Download
၁၃၈၅ ခုနှစ်၊ တန်ဆောင်မုန်းလပြည့်ကျော် ၆ ရက်၊ ဒီဇင်ဘာ ၃ ရက်၊ တနင်္ဂနွေနေ့။
---
Publisher: မြန်မာ့အလင်း/ December 03, 2023
Publication Date: 2023
Page: 32 Pages
Language: မြန်မာ
Download
၁၃၈၅ ခုနှစ်၊ တန်ဆောင်မုန်းလပြည့်ကျော် ၆ ရက်၊ ဒီဇင်ဘာ ၃ ရက်၊ တနင်္ဂနွေနေ့။
---
Publisher: မြန်မာ့အလင်း/ December 03, 2023
Publication Date: 2023
Page: 32 Pages
Language: မြန်မာ
Download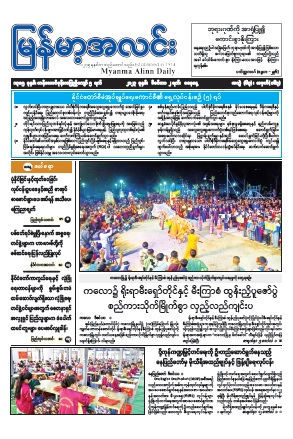 ၁၃၈၅ ခုနှစ်၊ တန်ဆောင်မုန်းလပြည့်ကျော် ၅ ရက်၊ ဒီဇင်ဘာ ၂ ရက်၊ စနေနေ့။
---
Publisher: မြန်မာ့အလင်း/ December 02, 2023
Publication Date: 2023
Page: 32 Pages
Language: မြန်မာ
Download